Around this time of year, people take time to think about what they're thankful for, and one thing that we are most appreciative of is our amazing team. It's absolutely astounding to look back at everything our small but mighty team has accomplished so far this year, and we're even more excited about what we have planned for the near future. To help us reach our goals, we've brought on two new talented ZURBians that we're confident will accomplish some amazing things!
Kevin Ball: Rails Engineer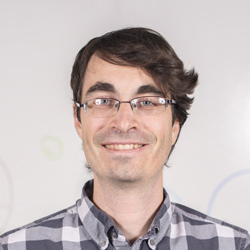 Our new Rails Engineer joins us from Socal, San Diego specifically although he also spent some time growing up here in the San Francisco Bay Area. Attending college in San Diego wasn't all sunshine, palm trees and craft beer though. Kevin studied physics and was especially interested in the elaborate models of astrophysics and quantum field theory. You know, the easy stuff.
After college, Kevin found himself back in the Bay Area and ended up at a tech company. It was there it all clicked for him, he could use that fascination with elaborate models to create software that did amazing things. An engineer was born! Kevin went on to start a few companies and is actively involved in the development community, organizing and attending events and finding like minded creators.
Kevin first connected with ZURB through a friend down in San Diego, and really dug our unique culture and the passion for learning and creating everyone on team exudes. A natural builder and creative thinker by nature, Kevin fits right in.
In addition to building awesome things, he enjoys public speaking, playing soccer, dancing (salsa, swing, hustle, ballroom), and reading a wide range of books. We're excited to bring Kevin on as our Rails Engineer, where he'll be working with the Notable team to make the design collaboration platform even more powerful!
Chris McCready: Business Developer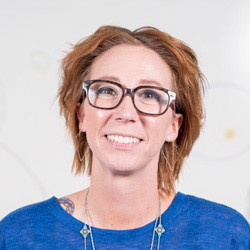 Chris comes to us all the way from the Chesapeake Bay in Southern Maryland, where she spent her childhood participating in Blue Crab-picking contests. Besides the mild crab obsession, Chris is also an artist, specializing in oil painting and graphic novel style art. A hardcore fan of the X-men comic series, Chris can tell you the origin story of just about anyone in the Marvel universe, from Ant-man to Xavier himself (Better known us laypeople as Professor X).
Career wise, Chris has always found herself in in the worlds of marketing, sales and business development which she recognized early that she had a real knack for. In addition to being able to build buzz and close deals, Chris has a passion for coaching others which fits right in with our values here at ZURB.
Chris stumbled across ZURB on the interwebz by accident, but fell in love with our values, goals, work and overall nerd-charm, and we fell in love with her easy-going nature, top notch biz dev skillz, and rad-tastic tattoos!
We've got some big goals for the next year and we move incredibly fast here at ZURB, but Chris is more than up for the challenge. We're excited to see how she'll help us up our game on the business front, make it rain, and help spread Progressive Design far and wide!
2016 is poised to be our biggest year ever, so we're thankful to have these two talented new ZURBians to help us reach our goals!